Digital Link – Enhancing Customer Engagement
As a standards-based structure, the Digital Link allows the use of basic rules so websites, applications, and POS scanners can enable connections, shopping experiences, and rich product content. This helps enable brands to meet consumer needs for more context-based experiences.
How The Digital Link Benefits Brands
Ability to help provide consumers enhanced content and experiences, such as detailed ingredient or allergen information, hints and tips for product use, and recommendations for related offerings
A single identifier to ensure authenticity more easily and to track a product from point of manufacture to the consumer's purchase
Improved business-to-business processes for data sharing to support a variety of capabilities – from streamlining recall management to automating price adjustments due to product expiration dates
Decrease the complexity – and overhead – of multiple labels or codes on a single product or package
How the Digital Link Works
Using a mobile device, consumers can scan a 2D barcode (i.e. QR Code). The same single 2D barcode will also be used Retailers scan the same code at the point of sale. In either case, the web-enabled barcode directs the user to an intelligent product identity in the cloud. Based on that intelligent product identity, the consumer or retailer is directed to a variety of digital content and services to enhance experience or safety..
The overall concept of the GS1 Digital Link is pretty straightforward. One single barcode can be used at the POS checkout and also used to obtain rich online brand-controlled content. The information below will break down the components on how this technology actually works and what manufacturers will need to do.
GS1 Digital Link URI
A UPC-A barcode essentially encodes a 12-digit GTIN.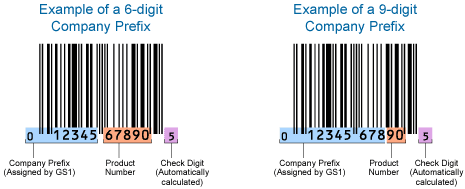 Caution: There are third-party companies on the internet who prey on unsuspecting new companies and offer single UPC bar codes for discount $5 rates. Many of these companies are fraudulent and use shared UPC Company Prefixes. Most retailers will not accept their numbers and Amazon now has a policy warning suppliers to license their own UPC Prefix.
GS1 Company Prefix Used in Case Markings
In addition to product identification, Company Prefixes are also used for logistic markings. Some retailers, wholesalers, and distributors require suppliers to use barcoded case markings which also follow the GS1 standards. The GTIN-14 is an identification string that includes a company's unique GS1 Company Prefix.